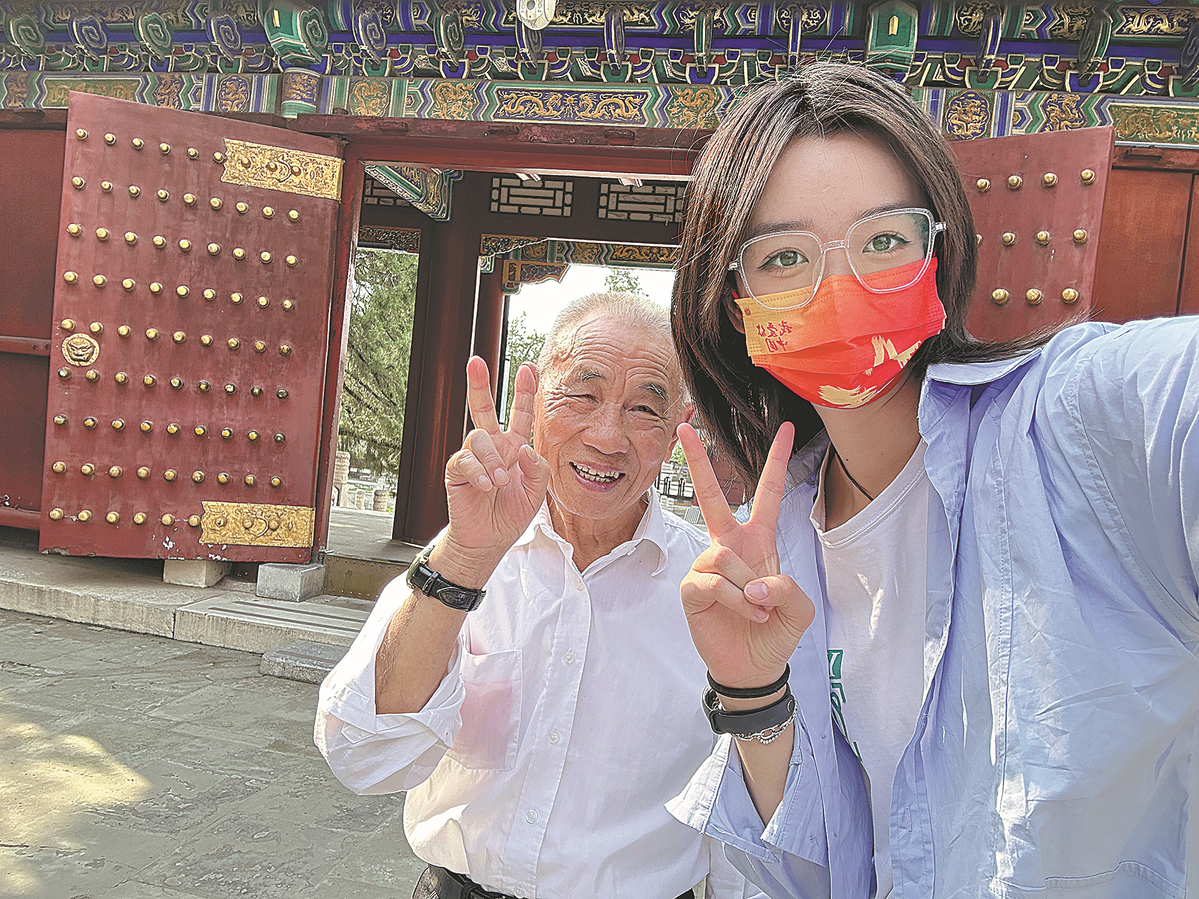 An 84-year-old man from the small town of Zigong, Sichuan Province, has become an unlikely social media sensation after his granddaughter quit her job and started helping him achieve some of his her wishes on her to-do list, attracting hundreds of millions of people. online views.
The short videos posted on Douyin – China's version of TikTok – show Wan Minghui, 25, who goes by the name Little Wan on social media, taking his grandfather to visit Beijing in September, a longtime wish of him and his wife. wife before she died six years ago.
The old man was interested in many things during his trip, from the number of tunnels to the size of the airport.
He can be seen in the videos leaving their hotel in Beijing at 2 a.m. to attend the national flag-raising ceremony and waiting patiently in a long line. Clutching a photo of his wife, Wan's grandfather sang the national anthem and wiped away tears.
In some destinations on the Beijing to-do list, he was photographed with his wife's photo, which he brought to make it look like she was traveling with him. Many affected netizens commented that her smile revealed her inner feelings.
Videos under the hashtags "Fulfilling Grandpa's 100 Wishes" and "Taking Grandpa for Travel" have been viewed over 100 million times, receiving over five million likes and a long list of comments, including praise for Little Wan, best wishes for her grandfather and talks about the meaning of life.
Wan quit her job as a consultant in May to accompany her grandfather after noticing his loneliness during an unannounced visit to his house one day in May, when she saw him sleeping alone on the sofa.
"My grandfather was alone, which made me sad, and the idea of ​​leaving my job to accompany him came to mind," she says.
Wan had grown up close with his grandparents because his parents worked away from their hometown.
Neither her parents nor her grandfather agreed with her decision to quit her job, fearing it would hurt her career development. To make a living after quitting, she got three part-time jobs, including writing online advertisements.
Her grandfather eventually agreed after Wan told him she could work from home, and she began recording her life in videos, which she sent to her parents.
After seeing her happy life, her parents began to support her decision and even joined them on their Beijing tour.
Reading the letters his grandfather wrote to his wife, Wan learned that the couple had a lot of regrets, including some plans they never made. So she started helping him fulfill them – for example, taking him to his first picnic, his first visit to the dinosaur museum, his first movie, his first Father's Day and his first karaoke experience. .
Although Wan sometimes has to stay up late for work, she said it was worth seeing her grandfather smile.
More trips are planned for the couple in the future, including a visit to Chengdu.
"My grandfather's life, who used to live alone, is changing. He is smiling more and more," she said.
"I didn't want to become a social media influencer," she added. "I gave interviews because I wanted to have a newspaper clipping that told my grandfather's story… He was with me as I grew up and I will be with him as he gets older."