The unemployment rate of 4.9% in September 2022 practically matches the rate of 4.8% in 2019, showing that many sectors are rebounding well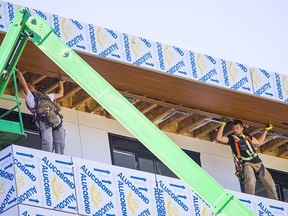 Content of the article
Unemployment in southwestern British Columbia has fallen from last year's pandemic peak of 7% to 4.8%, according to a labor market report from the Chartered Professional Accounts of BC
Content of the article
The annual BC Check-Up: Work report examines employment trends in the province and shows a significant decline in the number of unemployed in Metro Vancouver and surrounding areas.
Content of the article
The unemployment rate of 4.9% in September 2022 virtually matches the 2019 rate of 4.8%, showing that many sectors are recovering well from the disruptions of COVID-19.
But some sectors continue to struggle while others struggle with labor shortages, said CPA BC President and CEO Lori Mathison.
"Southwest BC's labor market has been strong, with employment growth nearly matching population growth over the past three years, despite significant economic turmoil," noted Mathison. .
The industries requiring the most labor are hotels and restaurants, with a vacancy rate above 12%, construction (more than 10% vacancies) and agriculture, forestry, fishing and hunting (9%).
Content of the article
In September, there were 1.77 million people employed in southwestern British Columbia, a 2.5% increase from last year at this time. Most of the growth was in full-time positions, which rose 5.5%, while part-time jobs fell 8.8%.
The employment growth rate in the year ending September 2022 almost matched the population growth over the same period: 4% employment growth versus 4.1% population growth .
"However, the labor situation varied by sector and some of the region's key industries continued to struggle," Mathison said in a summary of the labor report.
The services sector increased by 1.6% compared to September 2021 to reach 1.47 million workers, while the hotel industry increased by 4.5% during the same period, which is higher than the pre-pandemic levels.
Content of the article
But the personal and household services sector fell 5% from September 2021 and is 18.3% lower than in September 2019. Business and building services also fell 5.4 % and are down 11.8% compared to 2019.
The region's goods sector, driven primarily by a strong rebound in construction employment, is up 7.2% from a year ago.
"Employment in southwestern British Columbia has recovered from the 2020 recession, but some industries are facing sustained challenges and many businesses are struggling to find enough workers," Mathison said. . "Given the importance of a healthy labor market to our economy, finding ways to attract more workers and provide more skills training is essential, especially for industries facing the greatest shortages. labor.
CPA Check-Up data comes from Statistics Canada's Labor Force Survey and is not seasonally adjusted.