Alan Au is a self-taught computer scientist committed to cultivating local talent.
By Johnson Ian
---
There is a saying that goes, "You are never too old to learn". But that's always easier said than done, especially when it comes to self-study. Alan Au Chi Vai, who has just been appointed as the chief expert of the "Computer Network Systems Administration" skills competition by the 46th WorldSkills Competition (WSC), is a self-taught computer scientist. As a department head of the Information Systems and Technology Department of the Macao Productivity and Technology Transfer Center (CPTTM), Alan Au belongs to the post-70s generation. He continues to take on the challenges one by one. According to Mr. Au, computer technicians can also be business managers, while the administration of computer network systems has a bright future, but not the so-called "IT Dog".
Athletes yearn for Summer and Winter Olympics, while for the professional world there are also Olympics called "WorldSkills Competition". Obtaining "entry tickets" and winning prizes often begins at the starting line, and only the experts among the experts have the opportunity to take charge of the preparatory work for the various trade competitions. Mr. Au was given the important task in November last year of organizing one of the WSC competitions to be held in Shanghai in October this year. "Having the trust and support of experts around the world and the CPTTM, I am happy and grateful. Although the responsibility and the pressure are great, it pushes me forward at the same time.
According to conventional thinking, science and technology experts should be educated in schools, but Au relies on self-learning, the courage to continue to face challenges and a broad vision. Her journey can inspire you if you watch YouTube or study through online courses and seek a better future. In the 1970s and 1980s, when Macau was not a wealthy place, Alan Au was born into a poor family of six. Being the eldest brother at home, Alan was particularly hardworking and driven. "I have been interested in chemistry and physics since I was young and chose to study electronics. Until Form 4, a major in Computer Science was available at Instituto Salesiano. Although I didn't have the chance to formally learn computers, I asked the computer teacher to teach me. He was such a nice person that he not only organized workshops, but also opened access to the computer center after classes or during weekends. In this way, I started to learn computers and to write".
Anticipating the internet boom
Around the year 2000, the rise of the Internet led to the popularity of "dot.com". Alan Au predicted that the growth of information technology, known as IT today, would be unstoppable, and he offered new ideas. "The future development of computing and related applications should be much broader. Then I started thinking, should I change? I have been working for a while, so I should study for degrees that I did not have before, as well as strengthen my practical skills". Action speaks louder than words. Mr. Au applied for a part-time course at Jinan University and also applied for the CPTTM course on Windows Server in 2011. After that, he was invited by the instructor to serve as a teaching assistant. part-time teaching. "I took it as a challenge," he said. "Since 2002, the trainer took care of the theoretical teaching and I concentrated on the field. A year later, I worked full time for the CPTTM, then I moved to network systems. I studied Cisco facilities and technology on my own, then taught others."
In his early thirties, Mr. Au worked full-time Monday through Friday, part-time at the CPTTM, and studied Saturdays and Sundays. It was much harder than today's 9-6 hours. After graduating from Jinan University in 2005, he completed and obtained his Masters in E-Business Engineering from Queen Mary University of London through e-learning in 2009.
Whatever the period, self-learning is never easy. In recent years, it has become popular to learn software, art and foreign languages ​​online. However, a large number of people give up halfway through. Au says, "The biggest difficulty with self-learning is that you have to find the answer on your own whenever there is a problem. You can find all sorts of resources on the internet these days, no matter what you're learning, so there's no need to ask anyone else. There are plenty of resources out there, so you don't have to ask other people. Therefore, determination, perseverance and persistence are the key requirements for self-study. The prerequisite for success is that you must be interested in what you want to learn and learn with objective goals. Believing that "he who teaches, learns", he never ceased to pursue knowledge. He has learned a lot since his appointment as one of the WorldSkills Competition experts. "The Competition topics go well beyond our usual requirements," he said. "Only by constantly self-learning can we fill in the gaps. Then we can pass on the related knowledge and experiences to others."
Sound performance
Alan Au is computer literate, has had the courage to take on challenges and knows how to seize opportunities. From joining the CPTTM as a teaching assistant to becoming a full-time engineer and also a civil servant from 2008 to 2012, he finally discovered that "education and training" is what he really wants to do. . That's why Alan joined CPTTM again in 2012. He now mainly deals with the "CyberLab" and focuses on talent cultivation. It also organizes various business computing courses for industry professionals, as well as relevant courses and competitions for college and college students. Since 2014, he has been leading the training program of the WorldSkills Competition. In 2015, he was appointed expert and judge for the first time, representing Macau in training and leading players to participate in the "IT Network Systems Administration" skills competition. Macau players have been awarded the "Medallion for Excellence". The city participated in the following two editions. In 2019, Man San Wong won 9th place and received the "Medallion for Excellence", which was the best performance from 2015 to 2019.
As a small city with more than 600,000 inhabitants, Macau has performed well in recent editions of WorldSkills Competition. He has been awarded gold, silver, bronze and other awards. The professionalism and coordination ability of the Macau experts have also been well recognized and highly reliable. General Manager Kuan Chan Victoria Alexa and General Manager Thomas Mak of CPTTM were appointed CTOs of "Graphic Design Technology" and "Web Technologies" respectively in 2019, while Alan Au was recently appointed Chief Expert.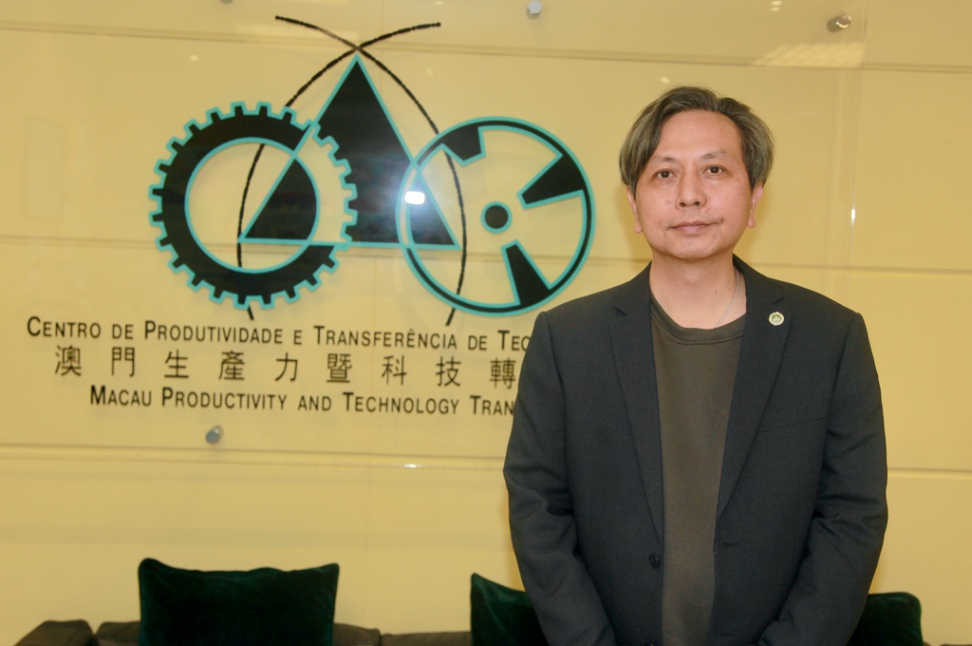 Great prospects ahead of us
IT coverage is broad, including software and hardware. Web (web page) and App (application) are two of the most common terms in everyday life. Alan admits that people are interested in websites and apps because there is something about designs that can be seen easily, whereas networking systems are kind of difficult. "First of all, it's boring. There is nothing to show. Second, the configuration of network systems is very difficult. I don't have any particular selling points to encourage young people to learn. I only rely on various IT and IT competitions to absorb them and then convince them and inspire them to study." However, in terms of prospects in Macau, network systems can be better, even if the local talent pool is insufficient and in high demand. "The tasks of writing a web page or an application can be outsourced to the mainland or elsewhere, while some parts of the tasks of managing networks and systems can also be outsourced, but hardware is key. You have to send someone to the site and set up the core, as well as monitoring and doing the maintenance on site, which is difficult to outsource.Therefore, the labor cost for managing the network system is relatively high, but the disadvantage is that it is hard work and requires shifts and on-call duty for large hotels.
"Computing is indispensable in the world and it is a promising industry. Some may think that IT people cannot be executives but can only work as "ITDog" all their life and it would be better to study business administration. In fact, IT enjoys promotion opportunities. We also have senior executives, not "ITDogs". Also, you may not be able to be part of the management team even if you studied business management, and now everyone is a college graduate! The Hong Kong drama "IT Dog" has become a hot topic in recent months. As a teacher of most computer scientists in Macau, Alan suggests middle school students should be exposed to more computer science and learn different areas, "including the web, applications, 3D models, network systems , etc., to find out their personal interests.. They also need to apply for the relevant majors when entering the university and learn more application skills to fully understand both theory and practice, prepare for college and working directly after graduation, there is no need to waste time completing applied skills."
As for long-term goals, Alan hopes to cultivate more IT talent for Macau and help build a "smart city". He analyzed that the concept of Smart City covers many categories, mainly transport, medical care, tourism, public administration, education, etc. The SAR government has been promoting it for several years and will continue to work hard on it as it is a process that requires time and resources. Macao should put more effort into cultivating talent and learn from successful experiences of other places. "The government can send delegations to learn, observe and exchange, and there is no need to go far because Hangzhou, Shenzhen and other mainland cities are already very advanced. Macau can learn from them.