Hab Arenas has a lot in common with other students. Arenas enjoys sports and interned at the University of Nevada, Reno football team. He enjoys hanging out with his friends and he's been keeping in touch with others through COVID-19 through virtual game nights. His family is proud that he is graduating on Friday. But if Arenas graduated last year, or three years before that, or five years before that, Arenas wouldn't have been included in the University's commencement ceremonies; he would have gone to a separate ceremony.
For the first time ever, students in the Path to Independence program, a two-year certificate program for students with developmental disabilities under the Nevada Center for Excellence in Disabilities, will graduate along with the rest of the student population. Arenas will join four other students, Ben Blessing, Logan Mason, Jeff Morgan and Charlie O'Neal to graduate this Friday, May 13. They will accompany the rest of the students of the College of Education and Human Development.
"Hab took advantage of every in-person and virtual opportunity," said Jessica Keefhaver, Path to Independence program coordinator. "He would be a very good representative of our student population. He took every opportunity he could to be part of the university.
Since the Path to Independence is a certificate program, students previously had a separate ceremony since they did not receive diplomas. However, Path to Independence students were allowed to join this year as many students will not complete a full program for a bachelor's degree. For some, it will be their last degree. Students like Arenas, who graduated from high school amid the pandemic, have never experienced a normal graduation ceremony.
"Inclusion benefits everyone," Keefhaver said. "If you've been exposed to people who have behavioral and learning differences, and then you're out in public and you see a young child break down, maybe instead of being scared of it, you can take a minute to have some compassion and understanding.
The Path to Independence is a certificate program, but it has its own set of unique and challenging requirements to earn this certificate. Throughout their time at the University, students will take specialized courses unique to the program, general courses with the rest of the student body, and work part-time or on internship. They are matched with teaching coaches for academic support and student mentors to connect with their peers and build relationships with others.
"Our program is half academic, but it's also half employment," said Nicole Wadden, employment coordinator at Path to Independence. "They juggle work and school, which is just a ton of work. They attend an employment transition class, must participate in a job shadowing program and then must find a job during their second year.
The effort pays off in the career outcomes of graduates. A survey of Path to Independence graduates estimated that about 83% were employed or continued after graduation. A survey conducted by Special Olympics shows that a national average of only 34% of people with developmental disabilities were employed, less than half of graduates were employed or furthered their education after completing the Path to Independence program.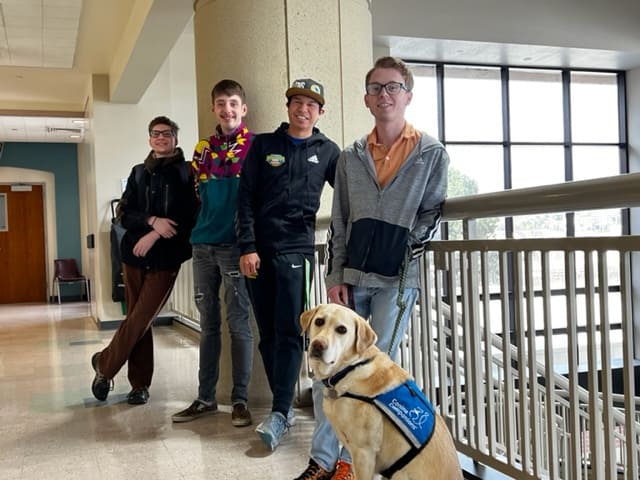 This set of program graduates was especially special to continue the program throughout the COVID-19 pandemic. Students with intellectual disabilities were at higher risk of being socially isolated even before the pandemic, often subject to limited access to transport. The pandemic meant, like other students, Path to Independence graduates had to adapt to a new style of learning, use new technology, and maintain motivation and social connections.
"They work just as hard, if not harder than any other graduate," Keefhaver said. "They put a lot of hours and dedication into their studies. They went through the pandemic like everyone else. They had to deal with school going online, classes canceled, people exposed or quarantined.
The students and faculty of the Path to Independence program thank everyone who has helped make the dream of participating in the initiation a reality. Inclusive graduation ceremonies aren't available to all programs across the country, but they're becoming more common. The University's program, which began in 2013, is one of more than 300 such programs in the United States. Graduates earn a Certificate in Career and Community Studies through in-depth study.
Path to Independence students were celebrated with a graduation ceremony on Saturday, May 7. Speakers included Randall Owen, director of the Nevada Center for Excellence in Disabilities; Path to Independence faculty, Mary Bryant (Director), Jessica Keefhaver (Academic Coordinator), Nicole Wadden (Employment Coordinator); and Donald Easton Brooks, Dean of the College of Education and Human Development. Students were also invited to talk about their experiences in the program and to share memories they have made over the past two years.