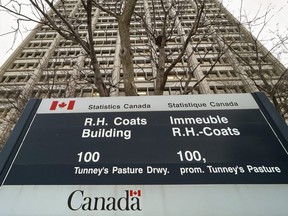 Content of the article
Ontario lost nearly 18,000 part-time jobs last month, but saw only a slight decline of 1,300 full-time positions, according to Statistics Canada's Labor Force Survey (LFS).
Content of the article
"After a decline in July, employment was little changed in Ontario in August," the EPA reported Friday. "With more Ontarians in the labor force looking for work, the unemployment rate rose 0.4 percentage points to 5.7%.
Content of the article
Despite the "build, build, build" mantra in Ontario, the province saw a drop of 10,000 construction workers in August.
There were also 19,000 fewer people employed in educational services in Ontario last month.
Across Canada, Statistics Canada noted that as a share of total employment in the country, the public sector fell to 21.7% last month, from 20.3% in February 2020.
The number of employees working entirely from home fell to 16.8% in August from 18% in July.
"Working from home continues to be an important feature of work for many Canadians, although the specific nature of the arrangement continues to change," the Statistics Canada report said.
Content of the article
RECOMMENDED VIDEO
The average hourly wage rose 5.4% year over year, but still trails the inflation rate of 7.6%.
The EPA asked workers what was the most important factor in a job and salary and benefits topped the list at 85.4%, even ahead of occupational health and safety.
Less than half of workers said a flexible workplace was important or essential, although those working from home were more supportive.
The EPA says the number of Canadians planning to leave their jobs in the next year has risen to 11.9% from 6.4% in January, especially those with the lowest hourly wages.
"Career change remained the most common top reason for considering leaving a job in August and was cited by 3.1% of permanent employees, up from 1.6% in January 2022," reports the LFS. "The proportion of permanent employees who indicated that they planned to leave their job mainly because of low pay rose from 1.2% in January to 1.9% in August.
The report can be found at statcan.gc.ca
aartuso@postmedia.com