Click to enlarge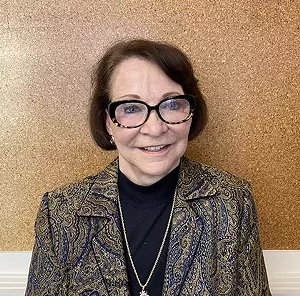 Democrats hope to make inroads in Sangamon County Council by fielding nine candidates who challenge Republican incumbents in the Nov. 8 general election.
That's the most GOP power challengers on the board in the past 20 years, according to Sangamon County Democratic Chairman Bill Houlihan.
"I feel good about it," he said. "All of these people have a chance of winning. These contestants spent a lot of time on the weekends knocking on doors."
Incumbent Linda Fulgenzi, a Leland Grove resident, faces a Democratic challenger in District 12 for the first time since joining the board in 2007. "As Republicans, we have never been challenged by Democrats like we are now," she said.
Sangamon County Board Chairman Andy Van Meter, a Republican from Springfield, said he was optimistic his party would retain majority control of the board, which Republicans have dominated for more than three decades.
"I think we have a great track record of delivering top-notch service and spending taxpayer dollars prudently," he said. Illinois Times.
Republicans currently hold 22 of the council's 29 seats, each elected by district. The council would switch to Democratic control in the unlikely event that the nine Democratic challengers beat the Republican incumbents.
Part-time jobs pay $9,319 a year and represent neighborhoods that are home to about 6,700 people each.
All the seats are to be filled this year after a redistricting following the 2020 census; after that, board members will serve terms of two or four years.
The council controls the purse strings of the county government, which operates on a budget of between $127 million and $160 million and includes the sheriff's department, county jail, county health department, state attorney state, the coroner, the highway department, the animal control center and a community action agency. who helps the needy.
Van Meter, who served on the board for nearly 30 years, takes on Democratic challenger Maureen Bommarito in District 24.
Other incumbents facing challengers include: Republican Paul Truax vs. Democrat Chrisandra Brown in District 10; Fulgenzi against Democrat Marc Ayers in District 12; Republican Brad Miller vs. Democrat Mikaelah Curry in District 13; Republican Annette Fulgenzi vs. Democrat Aaron Tebrinke in District 17; Republican Alice Ramey vs. Democrat Vera Small in District 19; Republican George Preckwinkle versus Democrat Krishna Brahmamdam in District 25; Republican John O'Neill versus Democrat Rusty Jones in District 26; and Republican Abe Forsyth against Democrat Jon Hackler in District 27.
Houlihan, a former staffer for the Illinois Senate Democrats and U.S. Senator Dick Durbin, attributed the rise in the number of Democratic challengers to the party's ongoing candidate recruitment efforts that have intensified under the former Democratic County Chair Doris Turner, now a state senator, and continued with Houlihan at the helm.
While people in rural parts of the county tend to vote Republican, that's not always the case in Springfield neighborhoods, Houlihan said. "Springfield has a bluer streak than it has for many years," he said.
The June 24 U.S. Supreme Court decision to overturn the landmark Roe v. Wade who protected abortion access energized women volunteers and voters, benefiting the Democratic Party nationally and locally, Houlihan said.
Ayers, 37, a Springfield resident who is Illinois director for the Humane Society of the United States, lobbyist and Democratic activist, said he wanted to serve on the board of directors to improve the control center of the animals and promote renewable energies and transparency.
This is his first attempt at election. He said he was confident in his chances of beating Fulgenzi to a two-year term after knocking on doors throughout the district, which tends to be Democratic and includes parts of the West Side of Springfield, Jerome and Leland Grove. . He said he overtook Fulgenzi in political fundraising.
Fulgenzi, a former elementary school teacher and former Leland Grove City Council member who didn't want to give her age, helps her husband and son run a construction and renovation business. She said she had a "good feeling" about her chances.
Fulgenzi said she was running for another term because "there are things that are not finished that I started." Fulgenzi said she participated in county committees planning a recently announced multimillion-dollar upgrade to the health department building to create a "one-stop shop" for public health services, community assistance and professional training.
She also wants to continue to help guide $127 million in work, including the creation of a central transportation hub and improvements to the county building.
Brahmamdam, 58, is a retired director of information technology for the state and a naturalized Indian American citizen who has lived in Springfield for more than 30 years. This is his first attempt at election. He said he was not afraid to challenge Preckwinkle, who has served on the board since 2007 and did not respond to requests for comment.
"We need new thinking in the board," Brahmamdam said. "The sky is the limit in the United States of America."