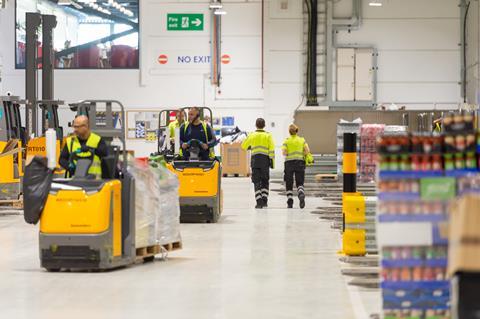 Lidl is recruiting for 1,000 new positions, with warehouse applicants expected to be offered jobs on site, in the latest sign of intensifying competition for labour.
In order to make it as easy as possible to take up the position, Lidl plans to immediately offer successful candidates an employment contract during a series of open days in its distribution centres. She is also recruiting for in-store positions.
Wage inflation has intensified competition for workers among retailers this year, particularly in warehouses, where employee turnover can be high.
Along with rival discounter Aldi, Lidl is one of many supermarkets to respond by raising wages twice this year. From October 1, the latest hike took the entry-level hourly rate for workers in Lidl stores and warehouses to £11.95 in the M25 and £10.90 elsewhere in the UK.
This made Lidl the highest paid supermarket in stores outside London based on entry level prices. In the capital, he is co-main payer, with Aldi. However, along with Co-op, Aldi is one of only two major grocers to offer paid breaks, which the discounter claims are worth more than £830 a year for the average store worker.
Aldi CEO Giles Hurley also recently said the supermarket would review wages this year.
New roles at Lidl include warehouse workers, cleaners and customer assistants, and all are permanent full-time positions.
Read more: Lidl and Aldi's store opening programs face a barrage of rival planning objections
"We are incredibly proud of our colleagues across the country, whose hard work and loyalty means we are the fastest growing supermarket, with over 1.5 million more people shopping with us than last year," said Nan Gibson, human resources director at Lidl GB.
"As our customer base continues to grow and we open new stores and warehouses, we need more people to join the Lidl team.
"Not only will the new colleagues be the highest paid in the industry thanks to our recently increased rates, but they will also be part of an incredible team of people working to help make good food accessible to every household, at a when it is so necessary.
Lidl opened three new stores last week, in Alperton, Oxford and Gillingham, and is currently redeveloping its Belvedere distribution centre. It is also expected to open a new distribution center in Luton next year, for which it began recruiting in March.
Warehouse Open Days will be held at the following locations and dates:
Region
Appointment

Doncaster

October 8
October 24
November 7
21 November

Wednesday

Exeter

Belvedere

runcorn

Peterborough