Beth Gaffney

John Shearer's photo
Of all the jobs at Girls' Preparatory School and the McCallie School, perhaps none is more unique than the one held by Beth Gaffney. That's because she works for both independent prep schools as the Coordinated Program Director.
While her title might make her sound like she has a typical desk job, it's anything but. It's actually a position that requires the energy of a teenager but the wisdom of a high-level administrator to help coordinate and be on hand for all sorts of activities the two schools do jointly. This includes everything from dances to sporting events, choir and theater performances, and more.
But for the 61-year-old former high school cheerleader, such a job fits perfectly with her gregarious and energetic personality.
"I'm a big kid," she laughed as she recently reminisced from her GPS desk about her nearly 15-year stint. "I like to work hard and play hard. It helps keep me young. They (the students) are full of energy. It's a great job to do.
Ms Gaffney began her tenure in 2008 and was well prepared for joint work having worked from both angles in various other contexts. The former Beth Flint attended GPS before graduating in 1979, and during that time was a cheerleader at Baylor School — yes, that Baylor — when Baylor was still just boys.
As a resident of Georgia, she later attended the University of Georgia, but was also and still is a big sports fan of the Tennessee Flights.
And then when she and her husband, Kevin, moved back to Chattanooga with their three children in 2006 after working for Loonam Computer Products and HBO/Cinemax and living in places like Minneapolis, Atlanta and Houston, the double scrutiny returned. .
They were looking for public and private schools for their children, but after eldest daughter Ellie started sixth grade in GPS after also trying to get her into Normal Park, Beth decided to go back to work.
This eventually led to McCallie finding the position of GPS Coordinates Program Manager two years later, when his son, Brendan, was about to enter sixth grade at McCallie.
Although this was previously a full-time job and dated back to 1985 when Baylor became a student and GPS and McCallie began a stronger alliance, it was part-time when Ms Gaffney took the job . It eventually became a 30-hour-a-week job with benefits for her health, but she often works 40 hours or more when school is in session. The work also had additional benefits of an emotional nature.
This includes the fact that she started working with the two schools where her three children, including her youngest daughter Hollis from the GPS class of 2018, attended.
"When your children go to the same school where you work, it's worth it," she said, while joking that their daughters agreed to see their mother at the various social activities they attended, while it was a bit more of an adjustment for his son.
Her job is to work with staff and a group of about 80 student volunteers – called the Coordinating Team – who plan and carry out a variety of activities. This includes students from both schools sitting together at football games and working on a spiritual theme, fifth term socials after football games, seasonal dances and balls, and mixed theatre, music and music productions in each school. The latter includes the popular Christmas concert by candlelight and winter holidays.
There are also field days or other informal activities, all designed to help GPS's 510 girls and McCallie's 979 boys (including 322 boarders) experience co-ed activities as well as their growth in life. homosexual education which they enjoy during normal school. hours.
"My job is to provide co-ed activities that engage the kids, and I hope they come away with a good time," she said. "And that sets the stage for what we hope will be lifelong friendships."
And not only does she help plan or lead activities with others, but she's also on hand when they happen and often babysits the teens' hours on Friday or Saturday nights. But she likes to get to know as many of the students as possible by name and can sometimes come out and dance at one of the dances, while making sure everyone is behaving appropriately and every event is safe.
She does this while holding a leadership position with her Sunday school class at First-Centenary United Methodist Church, a position that often involves teaching after a full weekend of work activities.
Ms Gaffney also keeps busy with other activities, including regular morning swims.
She learned to be active and take on leadership positions from her late mother, Jeanne Wyckoff Flint Rahlfs, who was the first employee of Chattanooga Cable Co. (later Comcast) and later held various leadership positions. She has also been involved in several civic groups as a volunteer.
Although Ms. Gaffney has learned to effectively coordinate all the various activities between the two schools after nearly 15 years of work, she said the programs and school relationships are constantly evolving.
For example, second-grade GPS school principal Megan Cover and McCallie principal Lee Burns are trying to further strengthen the relationship and programs between the two schools, she said. Both schools have also begun to hold co-ordinated after-school electives that provide half credit and give a pass or fail grade.
Additionally, shared bus services have increased this year, and McCallie is building a common sports field for GPS to use. It replaces the two football fields at Hixson Pike and Lupton Drive that GPS recently sold.
The two also share the new crew/oar boathouse by the Tennessee River and adjacent to the GPS track and varsity football field.
But through all the changes, Ms Gaffney said she never stopped enjoying the job.
"I really love my job," she said. "I get my energy from people. And working with children is probably my favorite thing.
* * *
Jcshearer2@comcast.net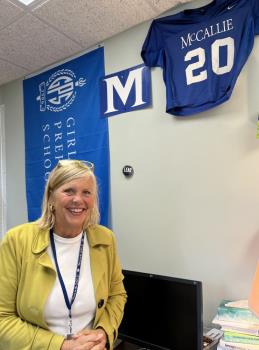 Beth Gaffney

John Shearer's photo