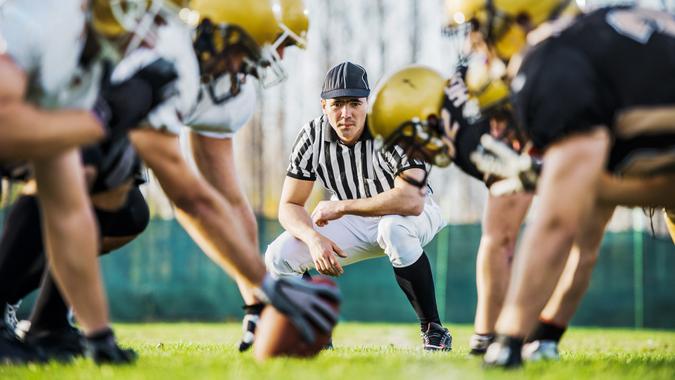 Skynesher/Getty Images
The NFL does not publish salary figures for referees or other NFL officials. However, Sporting News, the oldest sports publication in the United States, reported that the average referee salary was $205,000 per season as of 2019. Because the season now has an extra week – the league has moved to a season of 17 games instead of 16. in 2021 – this amount could have increased.
A $200,000 annual salary may seem like a lot for what qualifies as a part-time job, but NFL referees work hard for their money. The following provides an overview of how much NFL referees are paid and what they do in addition to officiating to earn that salary.
What is the Salary of an NFL Referee?
The reported average annual salary of $205,000 for NFL referees is probably not too far off the mark. Brad Allen, the 2nd highest paid referee in the NFL in the 2021-2022 season, is estimated to have earned $250,000, which includes his per-game bonuses. Byron Boston, the 10th highest paid NFL referee, reportedly earns $205,000 a year.
How much do NFL referees earn per game?
Sporting News says referees are not paid per game. Instead, they earn a fixed salary for the season and can receive per-game bonuses and bonuses for officiating playoff games and the Super Bowl. The average bonus per game for a referee is estimated at $2,500.
How much do Super Bowl referees get paid?
A Money.com report in 2018 indicated that the bonuses officials received for working at the Super Bowl could be between $30,000 and $50,000, although this is a closely guarded secret and has been the subject of many speculations.
Who is the highest paid NFL referee?
The highest paid NFL referee is Brad Allen. Walt Anderson topped the list until the end of the 2021-22 season when he retired. The two umpires earned approximately $250,000 for the 2021-22 season.
Is being an NFL official a full-time job?
Field officers are part-time employees and many work in other jobs. Veteran umpire Ronald Torbert, for example, juggled his job as a lawyer with his long officiating career in high school, college, and finally the NFL, until he retired from practice. of law in 2019. He was the referee for Super Bowl LVI.
NBC Sports said that as part-time NFL employees, officials do not receive insurance benefits. They are members of the NFL Referees Association, have a collective bargaining agreement and can enroll in a 401(k) plan with a partially matching contribution.
What experience does an NFL official need?
The NFL has 155 officials on its roster — from umpires to judges to replay officials — and that's a select group. The league's officiating department is tasked with working with local, state and college officiating groups to develop a pipeline to the NFL, but it's a long process.
The NFL has scouts across the country looking for officials at lower levels of the game who have the potential to progress, and approximately 4,000 officials have been identified. Once they come to the attention of the NFL office, their progress is monitored and they may be invited to participate in the NFL Officials Development Program. Officials at major university conferences seem to have the best chance of progress.
What do NFL referees do besides officiating?
A common question is, "How much do NFL referees make?" A better question is, "how do NFL referees work?" Fans may assume that officials only work on match days during the football season. But NFL referees and all other officials also work during the preseason and between regular season games.
During the off-season, officials must attend practice clinics to prepare for the upcoming season. This preparation includes written and physical assessments. Officials also attend pre-season training camps to practice practices and officiating matches.
During the season, officials review footage from the previous week's game. Referees, also known as team leaders, often have preparation to do in addition to reviewing the previous week's game. They spot the two teams they will face next week to report to other officials on things to look out for during game time..
NFL officials work hard for these coveted positions
On average, an NFL referee oversees 154 plays in an NFL game. The NFL Referees Department reviews every call an NFL official makes or fails to make. Officials who make too many incorrect calls or miss a high percentage of calls may be demoted. But top-performing officials have the privilege of officiating playoff games and eventually the Super Bowl while earning attractive bonuses.
Jami Farkas contributed reporting for this article.
Information is accurate as of October 17, 2022.
Editorial note: This content is not provided by any entity covered by this article. Any opinions, analyses, criticisms, evaluations, or recommendations expressed in this article are those of the author alone and have not been reviewed, endorsed, or otherwise endorsed by any entity named in this article.

Our in-house research team and on-site financial experts work together to create accurate, unbiased and up-to-date content. We check every stat, quote and fact using trusted primary resources to ensure that the information we provide is correct. You can read more about GOBankingRates processes and standards in our Editorial Policy.