Content of the article
Ontario NDP Leader Andrea Horwath and Progressive Conservative Party Leader Doug Ford both stopped in London at the same time on Sunday afternoon – five kilometers apart, but distant from each other in terms of message and style.
Content of the article
At a tightly controlled indoor event that saw three more protesters squeeze through, Ford stuck to his message that only his Progressive Conservative Party can create jobs by building highways, hospitals and homes.
"We are creating jobs filled with endless opportunities in every corner of this province," he said to the cheers of about 400 people inside the Lamplighter Inn on Wellington Road.
"We are building 1.5 million homes so more families can afford to live right here in growing communities like London. It's time for every worker looking for a new job, it's time for every driver stuck in traffic, and it's time for every family stuck in the housing market.
Ford reminded supporters that he promised to move the Workplace Safety and Insurance Board (WSIB) headquarters and thousands of jobs from Toronto to London.
Content of the article
"We're just getting started," he said, prompting a woman to shout, "You've done enough already, Doug."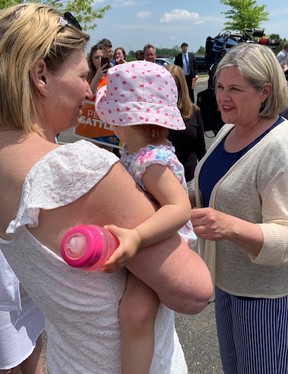 She and two men who went to the stage earlier to protest were escorted away by security. Outside the hotel, about 30 people demonstrated with a range of messages ranging from opposition to private health care to opposition to public health measures.
Meanwhile, New Democrat Horwath met with supporters outside the Elementary Teachers' Federation of Ontario office on Bateman Trail as she continued a day of campaigning in five constituencies that started in Essex with his promise that the NDP would train and hire 30,000 nurses and 10,000 new personal support workers. workers to improve home care.
"We can stop the cuts and make sure people have the kind of health care they need and deserve," she said.
Content of the article
There is a huge staff shortage in community and home care, with thousands of people living in long-term care or stuck in hospitals who could be cared for at home, she said.
The NDP would invest an additional $1 billion in home care, with $235 million in the first year alone, and hire more personal support workers into permanent full-time jobs, rather than part-time partial, with salary increases, Horwath said,
His government would repeal Ford's Bill 124, which limits pay increases to one percent per year for nurses and nurse practitioners, Horwath said. Horwath also spoke to a London grandmother who was recently featured in The Free Press about a catch-22 that could strip her child benefit.
A New Democrat government would overhaul the WSIB, and it will ask federal NDP leader Jagmeet Singh to push the federal government to change the tax rule, Horwath promised.
Content of the article
"We should be doing everything we can to support families, raise people and make sure they have what they need to raise the little ones, without as much stress and financial pressure," Horwath told The Free Press after speaking. to Londoner Lynda Cairns-Desbiens.
Cairns-Desbiens is raising her granddaughter on WSIB payments that entitle her to essential child benefits. But she faces a loss of those benefits because she recently received a large wage loss payment from the WSIB.
Revenue Canada rules don't allow him to report and spread that payment over several years — like many other Canadians can with lump sum payments.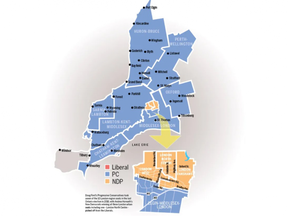 ---
---