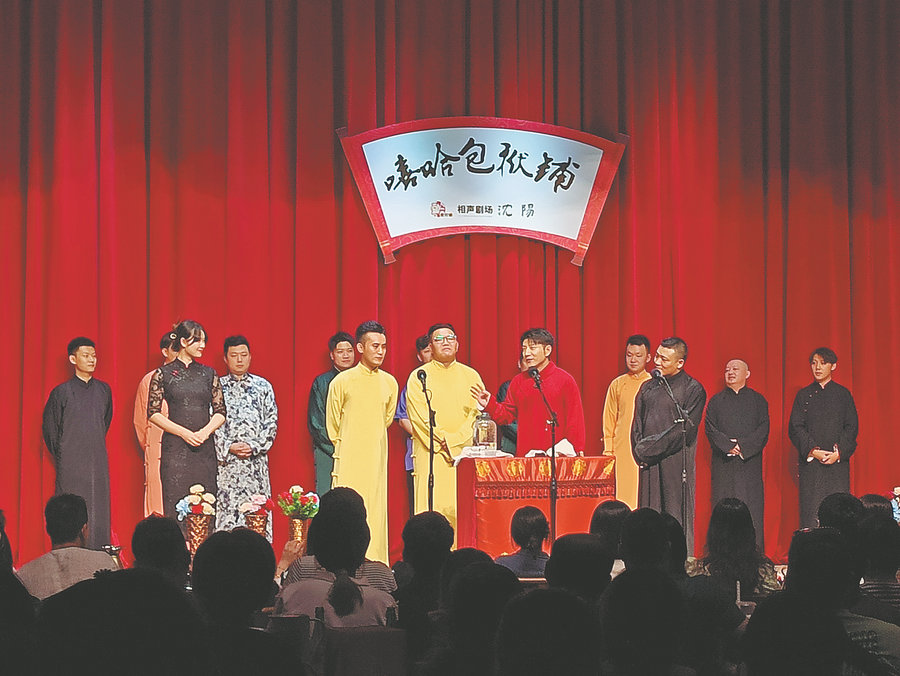 A crosstalk company is celebrating its 14th anniversary even as the performing arts industry continues to face challenges due to the pandemic, reports Chen Nan.
Hip-hop Crosstalk Club, a Beijing company dedicated to crosstalk, or xiangsheng, recently celebrated its 14th anniversary, when its founder and owner Gao Xiaopan brought together current and former staff members for a show.
On August 21, the show was staged at a small theater in Fangzhuang, Fengtai District, one of the company's two remaining venues in the city. Old and new xiangsheng works were played, causing waves of laughter. At the same time, Gao was moved.
"I had mixed feelings. I was touched but also sad. We haven't performed many shows this year due to the pandemic. We all cherished the opportunity to perform again, especially the old ones. company members," said Gao, who also performed.
"They became famous putting on shows in this little theatre, and now they work with bigger performing arts companies, which brings them a stable income. When I suggested the idea of ​​performing together for celebrating our company's anniversary, they said 'yes' without hesitation."
Three years into the COVID-19 pandemic, countless aspects of what was once everyday life have become alien to many people. High on the list might be live theater. Although people working in theaters have made efforts to connect with their audiences through social media and live streaming, the feeling of being in a room with crowds of strangers and performing live shows in the collective space is lacking.
"Many theaters didn't survive the pandemic, but we did, which is lucky but not easy. For some people, theater is more than an entertainment business. It's a dream of a lifetime to pursue. The pandemic forced them to leave, which is sad," Gao said, adding that some of his friends, who are also xiangsheng artists, had to earn a living by taking side jobs, such as than food delivery and driving for ride-sharing services, due to the pandemic.
Born in Baoding, Hebei Province, Gao loved watching comedy movies as a child, and one of his favorite movie stars is Hong Kong-born actor-director Stephen Chow. His mother took him to a local children's art training center, where Gao studied xiangsheng, which was the only acting-related option there. Gao has been crosstalking ever since. His mother, however, did not expect him to choose this career.
In 2003, he joined the National Academy of Chinese Theater Arts in Beijing to study xiangsheng. However, since the ancient art form did not seem promising at that time, many of Gao's classmates had to give up xiangsheng and find regular jobs to earn a living.
Gao, however, insisted on continuing his career as a crosstalk performer. To earn a living, he held part-time jobs, as a salesman, wedding host, and house painter.