Ashley Davis wanted the opportunity to have a big impact on students and her school. This is a big part of what led her to become a school principal after four years as a teacher at MATCH Charter Public School in Boston.
"The role that a principal and leader plays in a community, including the school and beyond, is unparalleled," she said.
In 2019, Davis became principal of PA Shaw Elementary School in Mattapan, an 85% low-income school with a high concentration of black and Hispanic students.
"I would say it was one of the most fulfilling, but also challenging jobs I have ever had," she said.
While Davis loved the job, she often faced bureaucratic hurdles and constantly fought for improvements to her building's facilities. She also found herself in a situation where there was almost no work-life balance.
"The number of things I had to navigate and juggle to get the impact I wanted to see for students and families was insane," Davis said.
She eventually reached a point where she was burnt out and quit last May after three years in the role.
Challenges – and burnout – among school leaders are all too common and new data shows the retention landscape isn't improving much, especially amid the COVID-19 pandemic.
According to the National Association of Secondary School Principals, the average principal tenure in 2017 was just four years. And a new report released Tuesday of 1,000 US middle and high school principals from June shows nearly 40% could leave their jobs in the next three years.
Nearly a third of respondents said a better work-life balance would encourage them to stay in the profession longer, while nearly three-quarters said a shortage of educators was a problem at their schools.
This is important because research shows that high principal turnover has a trickle-down effect that can lead to high teacher turnover, which ultimately hinders student progress.
"This cycle of preparation, retention, and turnover is so costly," said Lauren Bassi, director of school leadership and design at education nonprofit Springpoint.
"Not just in achievement, but in community and experience," added Bassi. "There is a devastating amount of lost talent and wisdom."
Where Massachusetts Is Lagging in Primary Hiring
The problem is particularly acute in Massachusetts due to the glaring lack of diverse leadership: only 12% of school principals are people of color, even though 40% of students statewide identify as black, Hispanic, Asian, Pacific Islander or Native.
But Arria Coburn, principal of the Springfield Renaissance School, says school systems need to do more than just prioritize diversity.
"Great, you hired them. 'Now what?' And I don't think that 'now what' is what people think about," said Coburn, a director now in her 8th year in the role.
Coburn says that although she received administration leadership training before taking office, there was no thought about how her identity as a black woman would shape her role – or differ from those who surrounded him.
"When you become a manager, race — especially when you're a leader of color — is there," Coburn explained. "There's no preparation for difficult conversations with families who had never talked about race, never known a black leader, and had lots of questions."
A perceived lack of professional support in various areas is part of the reason why some people are reluctant to consider this job. Kettlynn Prophete, dean of education at the Academy of the Pacific Rim Charter public school in Hyde Park, said she's been approached multiple times by district leaders about major jobs in the Boston area. .
"And I said no many times because that's what concerned me the most," Prophete said. "Where is the support to do this work? »
A new scholarship aims to help
To expand the main pipeline, Springpoint and the Barr Foundation co-launched a new fellowship program this summer called Transformative Leaders of Massachusetts. The aim of the two-year program is to provide training for educators who have an interest in higher leadership roles and connect them to a network of people who can support them on the road, like the principals of their current schools. The group also hopes that each cohort of fellows will develop personal connections and support each other.
The program also pays a stipend of $10,000 per year and seeks to close the diversity gap for principals in the state.
Bassi said it would be "essential" to "create a sense of belonging".
"And kind of a kitchen cabinet, people you have to call with a variety of expertise and perspectives," she said.
Prophete, a black woman, is one of these participants. Just a month into the program, she says it helps change her perspective on the realities of what it takes to do this kind of work.
"I'm open to that," she said. "Because I'm starting to ask myself, 'What do I need to do in a role like this?'"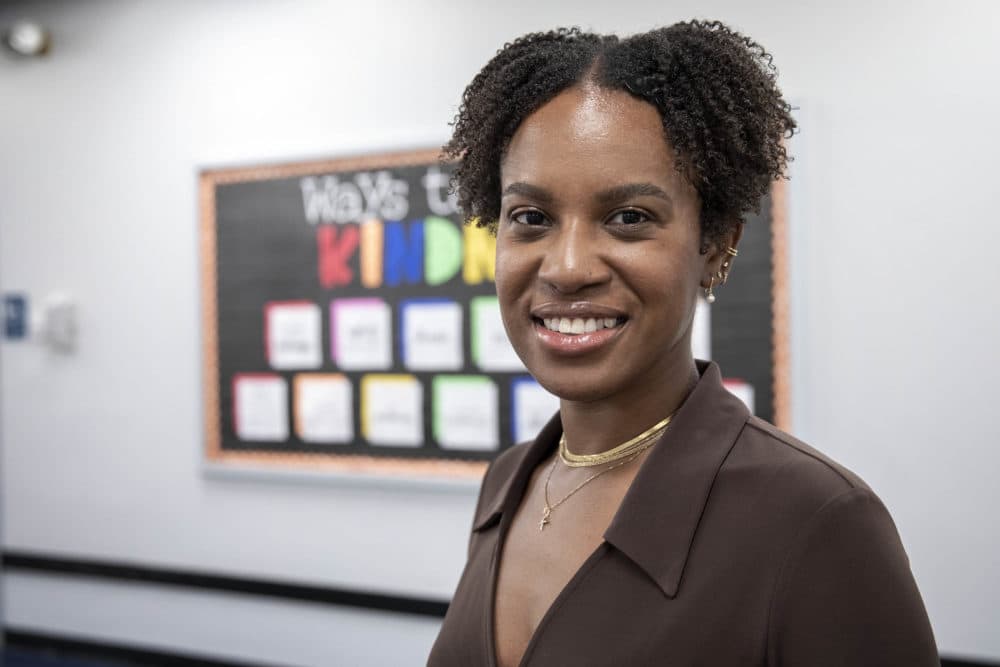 This type of professional development for future principals is part of a growing movement, according to Ronn Nozoe, CEO of the National Association of Secondary School Principals. It is encouraged to see much more targeted help from nonprofits, universities, and even state officials.
"This [retention] The problem is so big that it won't be solved by just one thing," Nozoe said. "Because you have the working conditions of the management, you have a remuneration and a salary, and the respect of the company.
Ultimately, Nozoe says sustainable solutions for core longevity start with filling entry-level positions in education. Because that's really where the pipeline begins.