This study is an analysis of secondary data from the Physician Work Style Survey conducted in 2016.
The 2016 physician work style survey
In the survey, firstly, medical institutions in Japan were stratified into four groups based on the number of hospital beds (199 beds or less, 200 to 399 beds, 400 to 799 beds, and 800 or more beds or hospitals to special function). Accordingly, there were a total of 12,035 medical facilities (11,319, 499, 195, and 22 facilities, respectively) that were randomly selected from each of the four groups for this survey. All physicians (full-time and part-time) working in the selected institutions were included in the survey. Those who received more than one questionnaire were asked to respond in the establishment where they mainly worked. It was therefore difficult to count the actual number of questionnaires distributed; however, approximately 100,000 questionnaires were delivered to institutions. The response rate was expected to be approximately 10-20%.
A self-administered questionnaire survey method was used for physicians. To protect the confidentiality of responding physicians, each physician sent their responses directly to the researcher in a collection envelope. The medical facility form was completed anonymously by the head of each facility.
Overall, 15,677 physicians from 3,126 institutions responded to the survey; the response rates were 15.7% (if the total number of questionnaires distributed to physicians is 100,000) and 26.0%, respectively.
Details of the 2016 physician work style survey
First, the physician survey questionnaire covered the following four parts. The first part was composed of the attributes of the doctor including the requested attributes included: age; sex; home university; year of graduation; place of residence; Place of birth; type of work; Income; family members living together; department; specialist qualification; childbirth, child care experience and authorized leave because of it; and affiliation with the university medical office. This element was used to extract detailed attributes to get an accurate picture of the current state of physician work styles and working conditions. The second part contained the working conditions in an hourly-study average. To investigate the working conditions of doctors, we asked them to describe their working conditions in a timetable. The subjects described their actual work, particularly during the week of Thursday December 8 to Wednesday December 14. Respondents had the choice between "working day" or "holiday". If they chose "holiday", there was no response in the table for that day. Working hours were classified into four categories: 'clinical office hours', 'non-clinical office hours', 'on-call hours' and 'break time'. For definition of terms, clinical office hours were defined as time spent in ambulatory, inpatient and home nursing. Non-clinical office hours were defined as time spent on teaching, research, self-study, meetings, and administrative duties. On-call hours have been defined as the time during which the physician maintains a cell phone for overnight contact and treats patients when the need for medical attention arises. Finally, break time was defined as the time allocated to meals and rest. The third part consisted of work shared with other professions or physicians, which included work that other professionals could perform on their behalf as follows: (1) explaining procedures to patients and obtaining their consent, (2) taking vital signs and obtaining data, (3) preparing medical records, (4) medical administration, and (5) moving and transporting patients. In reality, doctors can spend a lot of time doing these tasks on their own. Thus, to allow work sharing with other professionals, physicians were asked to indicate the actual time devoted to these tasks and the percentage of time that could be shared with other professionals. These included career awareness and future work style (clinician, general practitioner, nursing and wellness field, occupational health, administrative position, private enterprise, research, international health, etc.). The intent of these questions was to investigate physicians' intentions regarding career development and job diversity. The fourth part included intentions and years of work in the region. We have defined urban and metropolitan areas as cities like Tokyo, government-designated cities, and places where prefectural governments are located. Other towns and villages have been classified as rural areas. The medical institution questionnaire survey covered the following four parts. The first part contained the medical facility attributes: facility type, facility type, hospital type, number of inpatients, and number of outpatients. The second part included the number of staff working in the facility. The third part contained questions on work-family balance, the measures put in place by the institution to ensure this support and the availability of support for physicians to reconcile work and family life in each institution. The number of physicians who took parental leave was assessed. Questions were also asked about the availability of crèches, their opening hours and working days.
Analysis
To create a database for analysis, we matched physician and facility questionnaires using postal code. First, we extracted all the generations of doctors whose postal codes corresponded to those of the doctors and health facilities questionnaires. While the basic attributes of young doctors were at the heart of the discussion on lifelong career development, this study aimed to analyze the factors necessary for career development from a survey of work styles. young doctors (men and women under 40). The chi-square test was used to analyze attribute differences between males and females. Secondly, to understand the relationship between the professional attributions of young doctors and the working hours of seniors (over 40), the distribution of working hours by sex and age is presented in the form of a bar graph ( Fig. 1). We have compiled a table of median (ranges) and mean values ​​for clinical office hours, non-clinical office hours, on-call hours, and career aspirations by gender and age (Table 2). To find factors affecting physician work hours, we performed univariate analysis. First, univariate analysis showed that age, sex, department, childbirth/childcare experience, and specialty status were significantly associated with hours of work.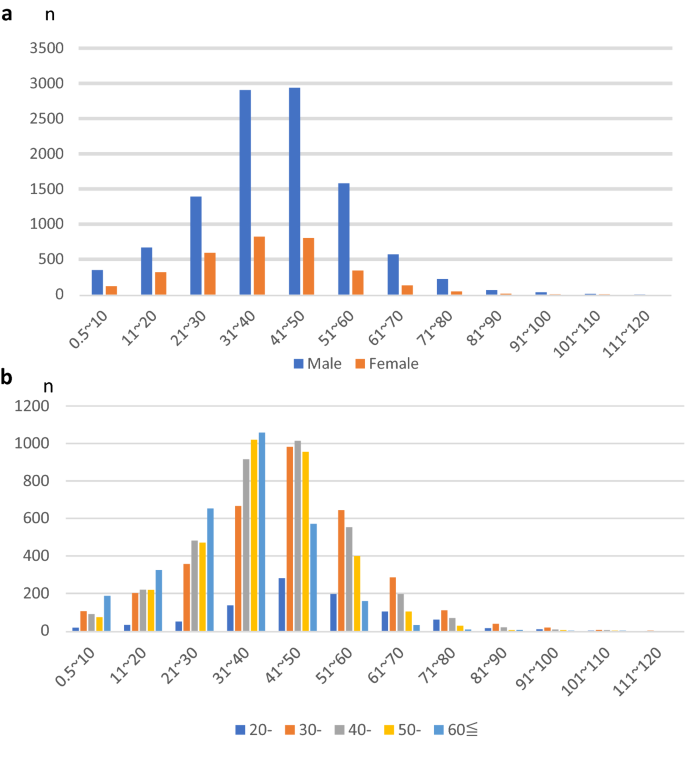 Secondly, we tried to build a multivariate model. However, the professional situation of the spouse and the number of hospital beds could not be entered as explanatory variables due to numerous missing values. Therefore, we performed a multivariate analysis using age, sex, medical department, childbirth/childcare, and whether the patient had obtained a medical specialty, which were significant in the univariate analysis. Multivariate regression results for each type of working hours (i.e., clinical office hours, non-clinical office hours, and on-call hours) are shown in Table 3. As a In the analysis in the appendix, we analyzed the efforts to continue working without quitting the job during childbirth or childcare, depending on whether the respondent experienced childbirth or childcare (the results by gender are attached as a supplementary file). All analyzes were performed using Stata/IC version 15.0 (Stata Corp, College Station, TX, USA). values ​​of p < 0.05 were considered statistically significant.
Ethics
This study was approved by the ethics committee of the Institute of Medical Sciences, University of Tokyo (approval number: 2020-33) and by the ethics committee of Fukushima Medical University (number of approval: general 2020-166).
Informed consent was obtained from all study participants in the form of opt-out methods.