The United States may be one of the wealthiest countries in the world, but there is a growing trend of financial inequality, with middle-class households being the most affected.
In fact, the number of adults living in middle-class households has fallen from 61% in 1971 to 50% in 2021, according to an April analysis by the Pew Research Center. In contrast, the top income level increased from 14% to 21%.
The decline of the middle class in the United States can be attributed to a variety of factors, including a decline in unions and manufacturing jobs and an increased need for college-educated, tech-savvy employees.
The COVID-19 pandemic also played a major role in exposing the severe financial shortfall, as those in the middle and upper income brackets were able to keep their jobs and/or work remotely. At the start of the pandemic in the United States, workers who were in the lower income bracket found themselves unemployed or had to be out of work, even temporarily, because their workplaces were closed.
Those working in the leisure and hospitality sectors were the hardest hit financially. In December 2020, employment in the hospitality industry was down 23% from pre-pandemic levels in February 2020, an unemployment rate that topped other industries. Service workers such as cleaners, food preparers, cooks, auto glass installers and animal groomers were among the lowest-paying jobs in the country.
Stacker compiled a list of the lowest paying jobs in Victoria using data from the US Bureau of Labor Statistics. Jobs are ranked by average annual salary with information as of May 2021.
20. Bakers
Victoria
Average annual salary: $25,890
304th highest salary among all metros
Employment: 50
National
Average annual salary: $32,300
Employment: 181,800
Entry Level Education Requirements: No formal college degree
19. Janitors and housekeepers, except chambermaids and housekeepers
Victoria
Average annual salary: $25,610
333rd highest salary among all metros
Employment: 500
National
Average annual salary: $31,860
Employment: 2,036,680
Entry Level Education Requirements: No formal college degree
18. Bartenders
Victoria
Average annual salary: $25,030
273rd highest salary among all metros
Employment: 150
National
Average annual salary: $30,340
Employment: 485,330
Entry Level Education Requirements: No formal college degree
17. Waiters and waitresses
Victoria
Average annual salary: $24,900
226th highest salary among all metros
Employment: 490
National
Average annual salary: $29,010
Employment: 1,804,030
Entry Level Education Requirements: No formal college degree
16. Vehicle and equipment cleaners
Victoria
Average annual salary: $24,730
354th highest salary among all metros
Employment: 140
National
Average annual salary: $30,550
Employment: 351,960
Entry Level Education Requirements: No formal college degree
15. Packers and manual packers
Victoria
Average annual salary: $24,380
323rd highest salary among all metros
Employment: 100
National
Average annual salary: $30,950
Employment: 585,270
Entry Level Education Requirements: No formal college degree
14. Teaching aids, except post-secondary
Victoria
Average annual salary: $23,980
331st highest salary among all metros
Employment: 420
National
Average annual salary: $31,760
Employment: 1,187,270
Entry-level education requirements: Some colleges, no degree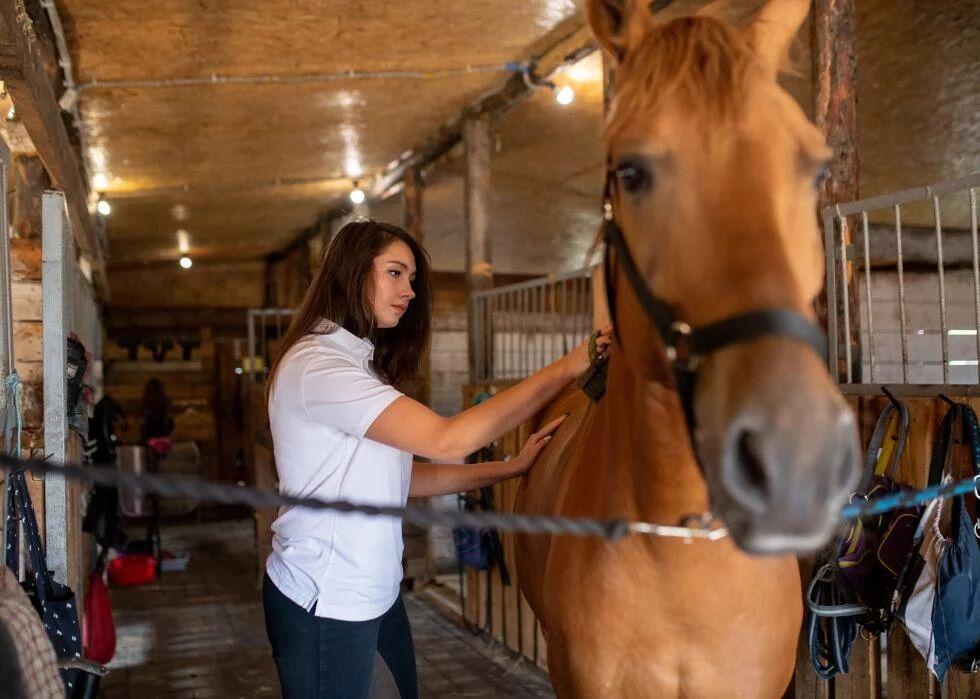 13. Pet Caretakers
Victoria
Average annual salary: $23,710
358th highest salary among all metros
Employment: 100
National
Average annual salary: $29,520
Employment: 225,680
Entry Level Education Requirements: High school diploma or equivalent
12. Cashiers
Victoria
Average annual salary: $23,660
257th highest salary among all metros
Employment: 1,320
National
Average annual salary: $26,780
Employment: 3,335,170
Entry Level Education Requirements: No formal college degree
11. Chambermaids and housekeepers
Victoria
Average annual salary: $22,790
345th highest salary among all metros
Employment: 200
National
Average annual salary: $29,580
Employment: 723,430
Entry Level Education Requirements: No formal college degree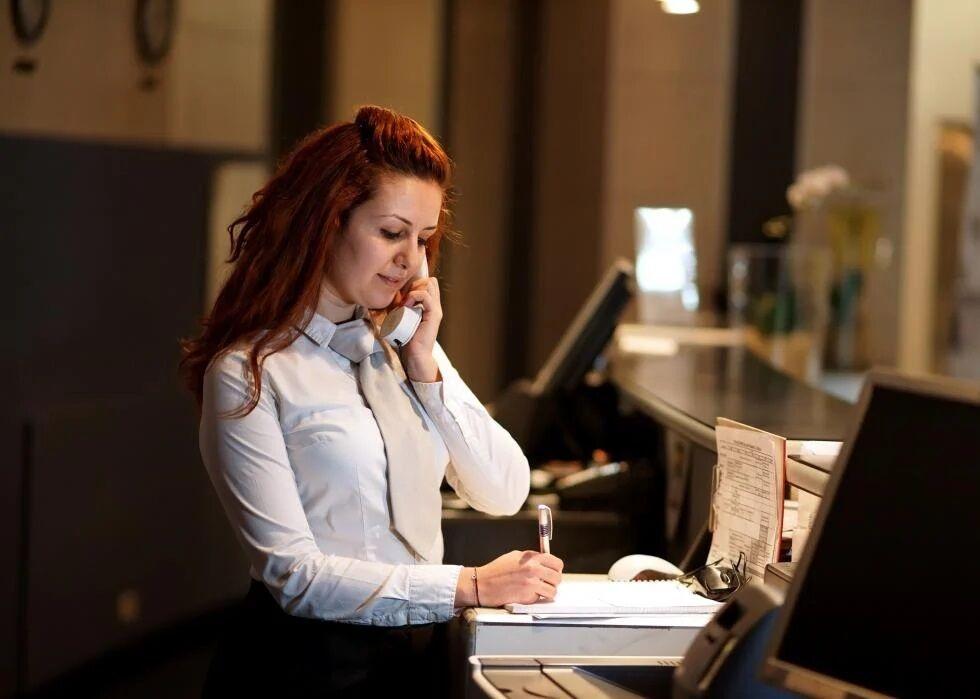 10. Clerical workers in hotels, motels and resorts
Victoria
Average annual salary: $22,740
312th highest salary among all metros
Employment: 90
National
Average annual salary: $28,040
Employment: 220,380
Entry Level Education Requirements: High school diploma or equivalent
9. Cooks, fast food
Victoria
Average annual salary: $22,310
229th highest salary among all metros
Employment: 150
National
Average annual salary: $25,490
Employment: 768,130
Entry Level Education Requirements: No formal college degree
8. Laundries and dry cleaners
Victoria
Average annual salary: $22,080
335th highest salary among all metros
Employment: 60
National
Average annual salary: $27,830
Employment: 157,400
Entry Level Education Requirements: No formal college degree
7. Dishwasher
Victoria
Average annual salary: $21,670
344th highest salary among all metros
Employment: 100
National
Average annual salary: $27,350
Employment: 377,040
Entry Level Education Requirements: No formal college degree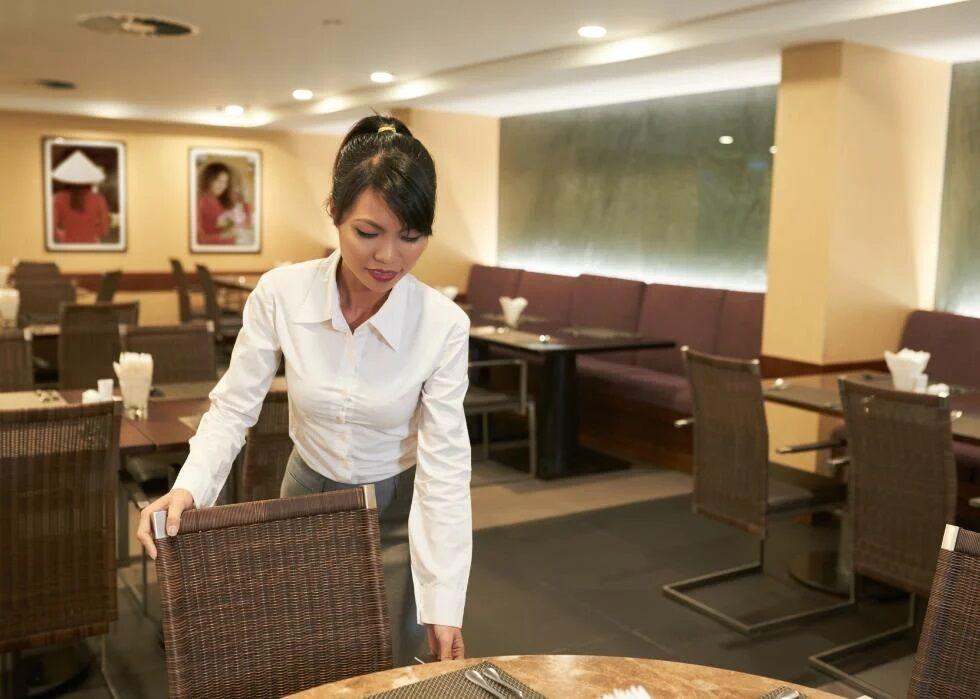 6. Hosts and hostesses, restaurant, lounge and café
Victoria
Average annual salary: $21,430
286th highest salary among all metros
Employment: 120
National
Average annual salary: $26,000
Employment: 324,690
Entry Level Education Requirements: No formal college degree
5. Food Servers, Non-Restaurant
Victoria
Average annual salary: $20,920
330th highest salary among all metros
Employment: 50
National
Average annual salary: $29,500
Employment: 243,030
Entry Level Education Requirements: No formal college degree
4. Entertainment and recreation attendants
Victoria
Average annual salary: $20,890
308th highest salary among all metros
Employment: 60
National
Average annual salary: $26,110
Employment: 262,170
Entry Level Education Requirements: No formal college degree
3. Early Childhood Workers
Victoria
Average annual salary: $20,740
362nd highest salary among all metros
Employment: 140
National
Average annual salary: $27,680
Employment: 438,520
Entry Level Education Requirements: High school diploma or equivalent
2. Dining room and cafeteria attendants and bartenders
Victoria
Average annual salary: $20,690
345th highest salary among all metros
Employment: 100
National
Average annual salary: $27,690
Employment: 336,970
Entry Level Education Requirements: No formal college degree
1. Fast food and counter workers
Victoria
Average annual salary: $20,660
348th highest salary among all metros
Employment: 1,300
National
Average annual salary: $26,060
Employment: 3,095,120
Entry Level Education Requirements: No formal college degree